Filey beach greets you with a stunning view and soft, reassuring sand under your feet. Arguably one of the finest beaches in the UK, this family-friendly holiday hangout is never too packed to have a nice time or a relaxing experience.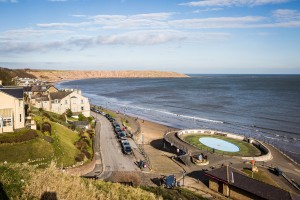 With many activities, you could find yourself enjoying a walk, sand sculpturing, birdwatching by the breathtaking Filey Brigg, or just simply laying back and enjoying the sun; and ever-soothing sound of the waves breaking across the shore.
If you just fancy a quick lunch, a pot of tea or a stroll across the shore, Filey Beach will deliver on all fronts. It boasts the charming Hunmanby Gap cafe, although it's little more than a Portakabin, oh boy – what a view!
This glorious home-away-from-home is enough to remind how undeniably beautiful England is!