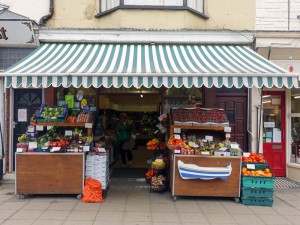 Undoubtedly one of the finest local shops in Filey is All Seasons Fruit and Vegetables, located on John Street, two seconds from The Beach. Not only are the range of fruit and veg the freshest and most carefully chosen for miles, but it nearly always comes at a fraction of the pesticide-ridden vacuum-sealed dross available at supermarket chains. Coupled with that, Natalie's Mum also makes the finest preserves and pickles known to mankind.
No fancy labels; no gingum covered jar lids, it's what's in the jar that is important here. And oh boy, does it deliver! It's you're partial to a strawberry jam or something similar you will regret not popping by to secure a jar. It will be the first of many trips to charming local shop.
Independent shops like this are the lifeblood of the Filey, the proud proprietors care for what they do and it's undeniably reflected in the quality of the produce and service. Another reason why Filey does – and will – make you smiley.