An invitation to the Queen's Jubilee Banquet @ The White Lodge Hotel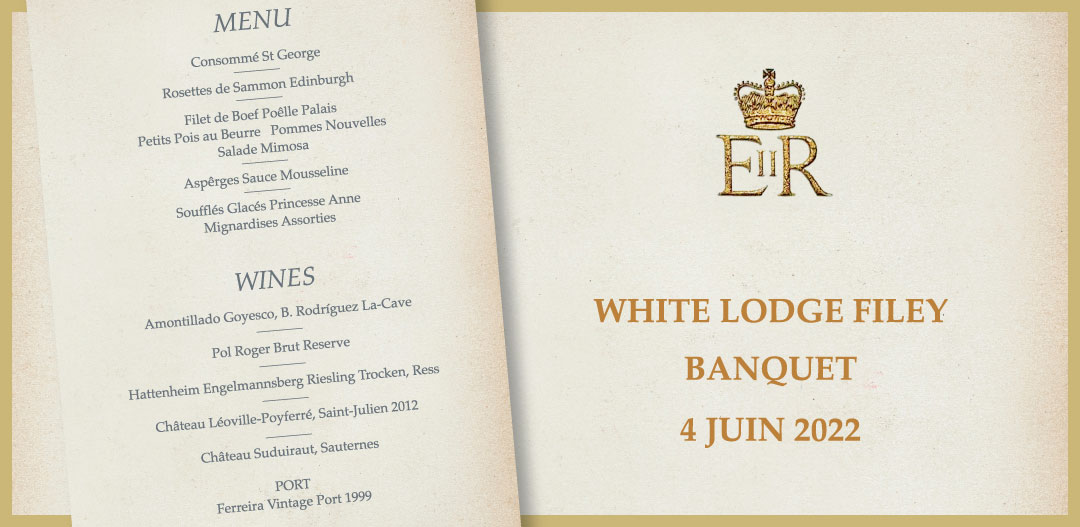 Dear Subjects,
Polish your tiaras and bald patches and join us for a truly wonderful celebration of The Queen's Platinum Jubilee.
Our chefs have recreated* the menu served to Her Majesty on her Coronation; and our good friend Benny Boy from esteemed vintner Berkmann has paired the wines as close as physically possible to the ones served on the night (short of purchasing a time machine and / or having to charge £27,000 per ticket!)
Even the music played will be the same as on that very night so join us for a truly Royal occasion.
Please see the Menu and Wine List above.
White Lodge Jubilee Banquet – £125.00 per person
Lounge Suits or Black Tie.
Call the White Lodge Reception now on 01723 514771 to reserve your place, numbers are very limited.
Due to the intimate and historical nature of this dinner we will not logistically be able to cater for any special dietary requirements whatsoever on this occasion. Please don't embarrass our staff by asking, we are sure there will be lots of other great events that you can attend over this weekend. Many thanks in anticipation.
*No turtles will be harmed in recreating this menu, it's as close as possible without upsetting modern sensibilities!